Hummus is a scrumptious
vegan
dish that combines cooked chickpeas, tahini, garlic, lemon juice, and seasonings.
Post updated 1/17/2022

Hummus is versatile, and much more than just a snack food. It's loaded with
plant-based protein
.
Hummus also contains a wide range of vitamins and minerals including folate, vitamin K, zinc, iron, magnesium, and vitamin C.
To top the health benefits off, hummus is
a high fiber food that
helps reduce and prevent inflammation.
Hummus tastes delicious smeared on veggies or bread, as a dip on a
crudités
platter, stuffed in a wrap, English muffin, bagel, pita pocket, or as a sandwich filling. Hummus looks and tastes fabulous atop luscious sal
ad greens as well.
Hummus is a food that's economical and good for your waistline as well as your pocketbook.
Hummus has its origins
in Middle Eastern and Mediterranean countries. Today this tasty dish is enjoyed by millions of people around the globe.
I
LOVE hummus, and I'm always on the lookout for interesting variations on this main theme. That's why I'm posting this.
How to Make Scrumptious Hummus,
It features flavorful hummus recipes and reveals the secret to making hummus both creamy and savory.
Each recipe in this roundup is unique. Try them all and learn new ways to tempt your palate, satisfy hunger, and make meal time prep so much fun.
Here's the first one...
Creamy, Savory Hummus
Ingredients:

30 oz. or approx. 4 cups cooked homemade chickpeas, or 2-15 oz. canned chickpeas rinsed and drained (chickpeas are also called garbanzo beans)
1 teaspoon baking soda
2-3 cloves fresh garlic
¼ cup fresh squeezed lemon juice
1 Tablespoon tahini, a condiment made from toasted hulled ground sesame seeds.
Julie at the Simple Veganista has a one ingredient
recipe to
make tahini
. If you prefer, buy it in most markets or online.
½ teaspoon cumin
Optional herbs and spices: I often add fresh chopped basil (2 teaspoons) from the garden, a pinch of fresh ground black pepper, and a pinch of
ground turmeric
. Select those you enjoy.
For more, check out
savory spice blend
. Recipe from Dr. Michael Greger and Robin Robertson from
The How Not to Die Cookbook.
What to do

:
The traditional and most economical way to make hummus is to use dried chickpeas. Soak the chickpeas the night before you want to make this recipe. Here are tips from the bean institute
to speed up soak and cooking time.
Cook chickpeas in an instant pot, slow cooker, or Dutch oven on the stove top or in the oven. To save even more time, use the extra-quick method of opening cans of chickpeas.
The secret to making hummus creamy is this. After using any cooking method you like or opening cans of chickpeas, place chickpeas in a medium saucepan and add the baking soda. Cover chickpeas with several inches of water, and bring the mixture to a boil over high heat.
If necessary, reduce heat to medium to prevent overflow. Continue cooking for approx. 15-20 minutes.
You'll know the chickpeas are ready, when they look bloated, skins fall off, and they are quite soft. Drain thoroughly and place aside.
Prep ginger, garlic, and fresh herbs, while the chickpeas are cooking. Then place a 1 inch knob of fresh peeled ginger (add more ginger to heighten flavor) and any fresh herbs you select, to

the
chopping bowl of your food processor. Chop them until fine.
Then add chickpeas, lemon juice, tahini, garlic, cumin, oregano, and any optional dried herbs or spices you've selected. Process until the chickpeas and other ingredients are very creamy.
If the mixture is dry, add one drop of water at a time until creamy.
Serve creamy savory hummus the day you make it, and store leftovers in a refrigerated airtight container. Use it all within 5-7 days.
Here's my favorite hummus tip: Make hummus dishes delicious, and eye-appealing with spices, herbs, and colorful extras including avocado slices. cilantro and lime, sprinkling of toasted pumpkin or other seeds, or shredded zucchini, cabbage, carrots, beets, or tomatoes.
Everyone eats with their eyes as well as their appetite, so make foods look luscious with colors.
To improve health, eat meals that provide
a wide variety of

colorful

plant-based foods.
Hummus is a fine topping for baked sweet or russet potatoes. Use it in a Greek salad with grape leaves and tofu feta, or combine hummus with brown rice, veggies, and fold into a corn tortilla.
We especially enjoy eating hummus sandwiches on toasted whole grain bread with sliced red onion, fresh tomatoes, basil, and shredded red cabbage (pictured in the blue framed photo above).
There's no added oil in my recipe, so it doesn't add any unnecessary calories and works well in a vegan, gluten free, vegetarian, whole food, or conventional meal planning repertoire.
Just be careful. You may find hummus irresistible.
Now on to my blogger guests in this scrumptious

hummus recipe roundup...
JD over at
In the Kitch
offers a
hummus dip recipe
that mixes hemp seeds, figs, olive oil, and greens with chickpeas.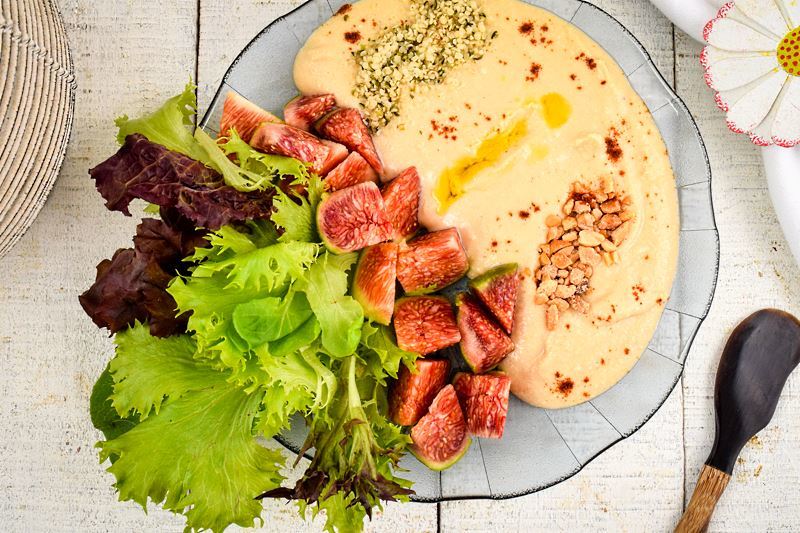 Photo from JD at In the Kitch. What a yummy combination of ingredients.
Here's another...
This
instant pot hummus recipe
is an original from
Corrie

Cooks

,
instant pot lover and food blogger.
Corrie's presents his hummus recipe in a crockery bowl with fresh parsley, paprika, and extra-virgin olive oil to create an inviting look.
My next guest is
...
Elena from
Happy Kitchen.Rocks
whose recipe for
Roasted
Beet Hummus with Pita Chips
sure is colorful as well as healthy, and tasty.
Kristi Wheeler, the sustainability blogger at
Homesteadwishing.com
is next. She shows us how to
use colorful
herbs, spices, seeds, veggies and other toppings to make hummus look glamorous. Check out tips at
Garnishing Hummus.
Our last but not least guest blogger is Robin over at the
Vegan Dollhouse.
Her
Vegan Hummus Recipe
incorporates red cabbage sauerkraut and dill to heighten flavor and health. Yum, yum.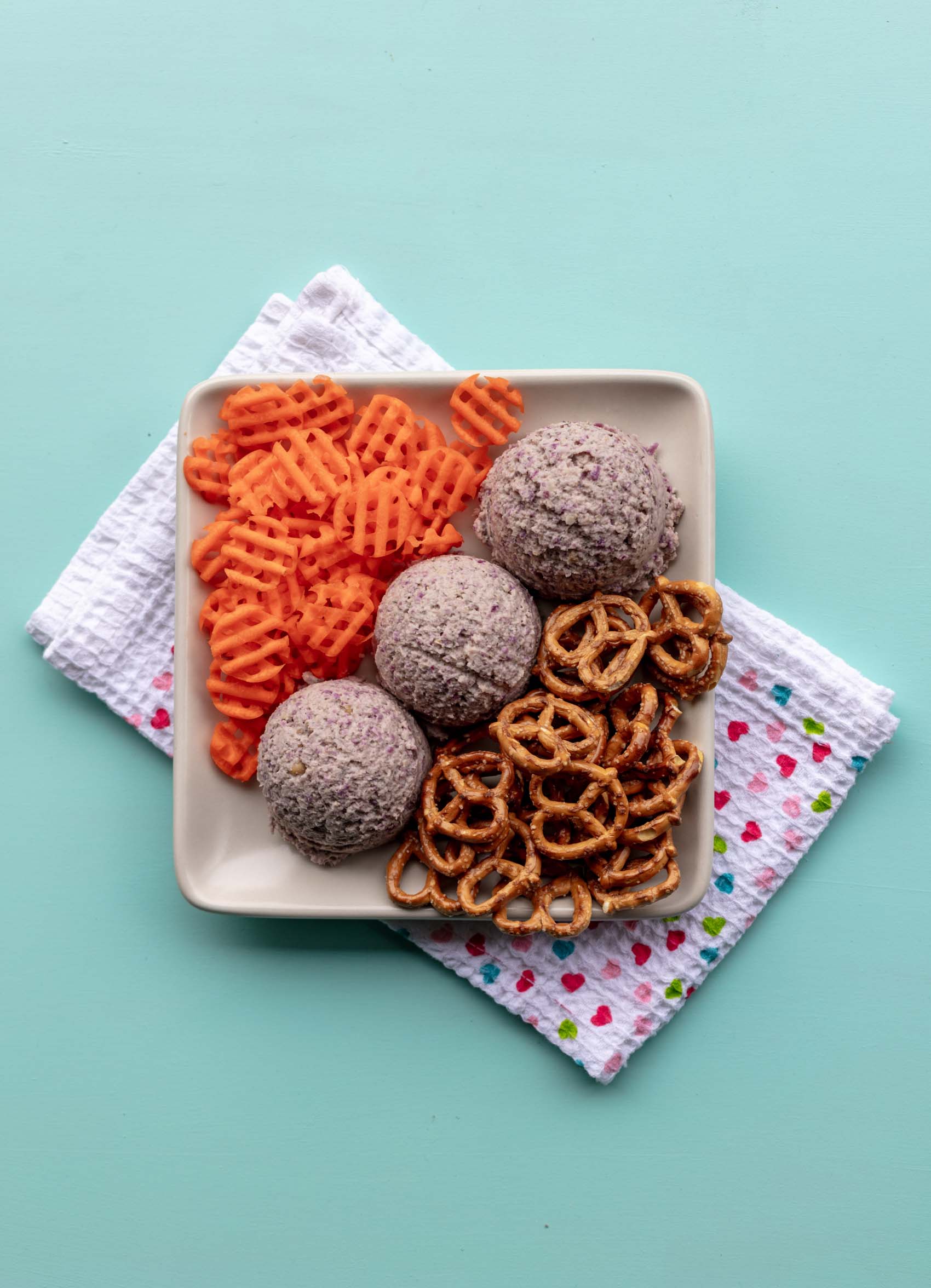 Now that you've seen this array of hummus recipes, I hope it has whet your appetite.
Please let us know you've been visiting at Colors 4 Health by commenting below. No links in your comment please, as it won't be published that way.
When you re-share this post on social media, please supply a link back to this post.
Like what you see? Please visit again and check out my Website as well.
YAHOO. This post is featured at Unlimited-Monthly-Link-Party-16. Thrilled and honored. Thanks Dee Blanding at Grammy's Grid for selecting this post!
This post has been shared at
Meatless-Monday with Link-up #1
This post has been shared at a-clean-slate-at-the-hearth-and-soul-link-party
This post has been shared at Souper (Soup, Salad & Sammies) Sundays at Kahakai Kitchen
This post has been shared at Thursday-favorite-things #TFT
This post has been shared at summer-break-at-the-hearth-and-soul-link-party
This post has been shared at UNLIMITED Monthly Link Party 15!