I've had the urge to create a plant-based whole food recipe for vegan meatballs, scrumptious enough for all to love. To most of us, as we age, it does dawn on us that we could be eating healthier. Cutting down on processed, cholesterol laden foods is a smart health decision.
Post updated 5/15/2023
See what I discovered during my hands on food testing and cooking experiments, cookbook investigation, and research on the web.
I SCOUTED OUT RECIPES THAT ARE :
EASY
DELICIOUS
COLORFUL
HEALTHY
See the Results in a Vegan Meatball Roundup Post to Live For!
Here's My Recipe...I call it
Remarkable Vegan Meatballs
This recipe is economical, and made from items most of us already have in the pantry or refrigerator.
It's adaptable. Serve vegan meatballs for brunch, lunch, or dinner. Top mashed cauliflower,
spaghetti, shells, linguini, or other pasta with vegan meatballs.
Savor the flavor in a hoagie, pita, or in a wrap.
Serve veggie meatballs on a bed of
sautéed broccoli or spinach, or top quinoa, barley, or mashed potatoes with vegan meatballs and mushroom gravy. All these combinations are yummy.
So let's give a cheer for


Remarkable Vegan Meatballs
Ingredients:
½ cup pre-cooked brown rice (any variety will do)
1 can (about 12 oz.) lentils drained
1 yellow onion chopped
4 cloves garlic minced
8 oz. fresh white or baby bella mushrooms cleaned and chopped
1 flax egg: In a small bowl combine 1 tablespoon plus 1 teaspoon ground flaxseeds. Mix with ¼ cup water. Let flax egg mixture sit until thick and viscous about 5-10 minutes before following directions in step 4 below
2 slices of whole grain bread for bread crumbs-any type as long as it equals about 1 cup ground bread crumbs
Salt and pepper to taste
pinch of fresh basil, oregano, thyme, parsley, rosemary chopped fine or 2 teaspoons dried Italian Herb Blend
1 teaspoon extra virgin olive oil
1 jar of your favorite Marinara Sauce (25 oz.) or homemade
What to do:
1. Put the oven rack in the middle slot of the oven. Preheat the oven to 375 degrees Fahrenheit. While oven heats...

1. Clean and prep onion, garlic, mushrooms. Place a drop of oil in a sauté pan and brown the onion for a few moments (for oil free version use water or veggie broth instead of oil).
Then add garlic and do the same. Add chopped mushrooms and cook until all are soft and thoroughly cooked (about ten minutes).
2. While that cooks, get a large mixing bowl and mix (mash) the brown rice and drained lentils together. Add whole grain bread crumbs and combine.
3. Use a slotted spoon to transfer onion, garlic, and mushrooms from sauté pan to mixing bowl. Reserve mushroom cooking liquid to add to soup, chili, or other dish.
4. Add flax egg and seasoning to mixing bowl. Combine all thoroughly. This flax egg mixture is the best I've ever tried. The veggie balls bind well and do not crumble. If you feel mixture is too dry and crumbles, add a drop or two of water.
5. Shape mixture into bite size veggie balls. Place them on a large ungreased baking sheet and put in the oven. Cook
vegan meatballs for approximately 30 minutes. You'll know they are ready, when they look and feel firm (squeeze one) and are slightly browned.
6. Meanwhile, empty the jar of marinara into a medium size sauce pan and simmer covered on stove top until pasta and meatballs cook.
7. In a pasta pot boil the pasta of your choice (cook according to package directions). When done drain.
8. Top each serving of pasta with a ladle or two of sauce and two or three veggie balls apiece. Garnish with fresh clipped parsley or use the vegan cheese recipe below. Any extra veggie balls can be placed in the extra sauce and refrigerated. This recipe will make a dozen vegan meatballs and serves 4.
To shake things up, top
garlicky vegan mashed cauliflower
with meatballs or serve
spaghetti squash
as a base instead of pasta.
Plant-based spaghetti squash marinara with tossed sa
lad
Try this fabulous recipe from Kelly, a Transformational Health Coach and holistic practitioner who blogs at Tasting Page. See
Vegan Lentil Mushroom Meatballs
on a bed of lettuce now.
For another slant see this recipe. It features Bulgur wheat and cauliflower for
Vegan Italian Meatballs
from Chuck Underwood. He's the blogger at Brand New Vegan, and he aims to make switching to plant-based eating as easy as possible. This is a link to his recipe for
Vegan Parmesan
.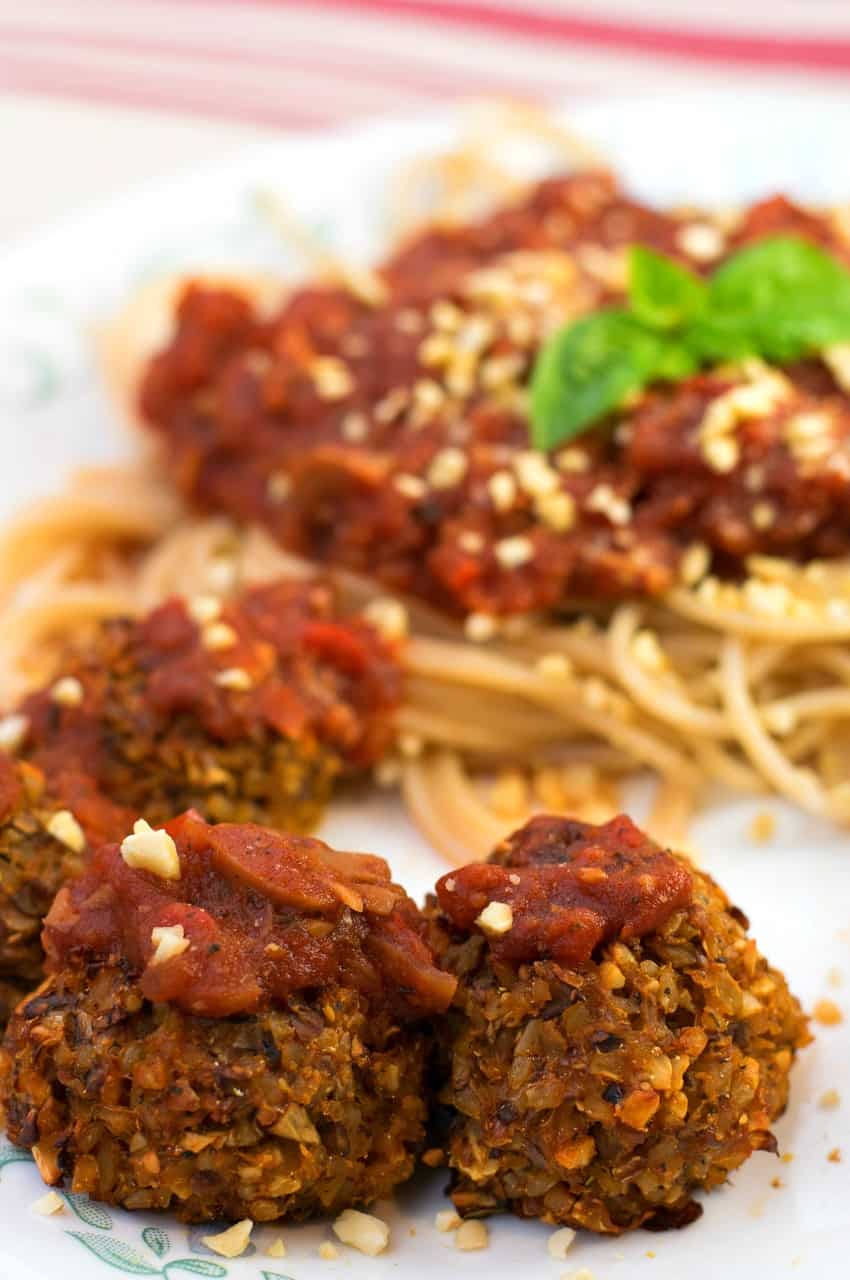 Vegan Italian Meatballs from Chuck Underwood
Not sure what Bulgur wheat is? See more at
health advantages of eating Bulgur Wheat from Dr. Axe
.
Want to make a more hearty tomato sauce?
Add veggies to the sauce. If you include
carrots
, peas or legumes, and
edamame
to tomato sauce they increase the amount of vitamins, minerals, antioxidants, fiber, and plant-based protein you are eating.
For the final recipe in my vegan meatball roundup...
Nora Taylor shares her version of
Spaghetti and Easy Vegan Meatballs
.
She's the blogger at Nora Cooks, and she uses chickpeas to give vegan meatballs a satisfying, comforting flavor.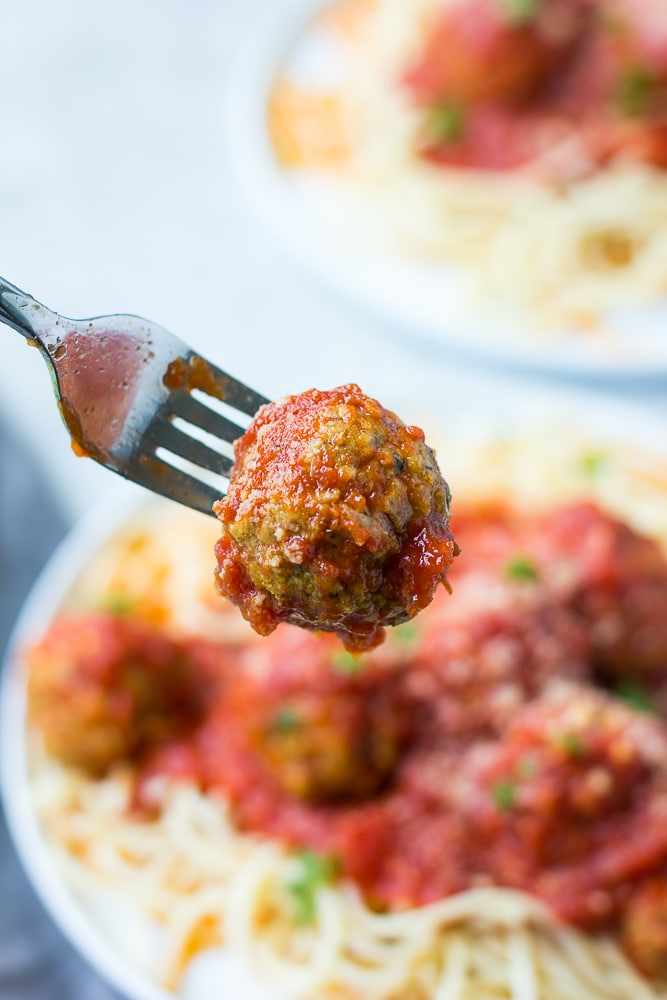 Photo Nora Taylor at Nora Cooks
Isn't it surprising that vegan meatballs can be made in so many taste tempting ways?
Tip: Buying in-season, locally grown produce is an easy way to select fruits and veggies that are loaded with eye-appeal, freshness, and often on sale. Since locally grown means items aren't transported long distances to get to your table, it costs less and tastes better. It's alive with goodness.
Do you serve meatless meals more often than you once did? The number of people who are switching over is
mounting
. Why not join the crowd?
After your food shopping run, have fun cooking up some vegan meatballs. They are
healthy
, colorful, easy to make, and delicious.
Invite your partner, friends, and family to join the cooking party. Perhaps it will turn into a vegan meatball marathon.
Before you go, please comment in the space provided below.
Which recipes sound and look good to you?
No links in comments please, as I won't be able to publish them that way.
Please share a link to this post on social media and credit this blog.
See the latest about wellness by visiting again. Posts are published on the 1st and 15th of each month.
This post has been shared at

Meatless-Monday with Link-up #1
This post has been shared at Thursday-favorite-things-party
This post has been shared at transition-from-summer-to-fall-at-the-hearth-and-soul-link-party
This post has been shared at whats-for-dinner-sunday-link-up-322
This post has been shared at Happiness is Homemade Party
This post has been shared at pretty-pintastic-party-262
This post has been shared at simple-homestead-blog-hop-208
This post has been shared at midlife-share-the-love-party-66